Check your inbox to confirm you've been added to the list!
Overview of Course
This course will immerse you in the living language of plant medicine and ecology. We focus on bioregional herbalism, actions & energetics in western herbalism, herbal medicine making, materia medica, and community engagement related to the use of herbal medicines to support community health and resilience.
By exploring herbalism from these different perspectives, we will come to a more useful, practical, and foundational understanding of the use of herbs than the common association of "use this herb for that condition". Working beyond this approach, we will rediscover the overlapping ecologies of organ systems, body, and earth and begin to relearn the power of medicinal herbs and fungi as 'healers of all life on earth'.
Bioregional Herbalism is the practice of working with plants rooted in place, in our case, the wondrous and beautiful 'Great Lakes Bioregion' we call our home. Practicing bioregional herbalism, we work to enter into a sacred relationship with the land we walk upon. To learn, steward, connect, and live in reciprocity to the living landscape of which we are apart. Foundational to this work is the acknowledgement of the fact that we are learning to deepen our connection to the more-than-human world on unceded Anishinaabeg land. Additionally, it requires us to reconnect with the flora of our bioregion, understanding the differences between native, naturalized, and so-called 'invasive' species. Towards this end, we explore three books loosely related to herbalism and participate in a book club on a bi-monthly basis while emphasizing bioregional herbs in our offerings for the Community Apothecary.
Overview of Bioregional Herbs
Seasonal Plant Walks led by myself or a colleague
Bi-Monthly Book Discussion (3 books read throughout the course of the program)
Books we've discussed in the past include The Lost Language of Plants by Stephen Harrod Buhner, Braiding Sweetgrass by Robin Wall Kimmerer, The Spell of the Sensuous by David Abram, A Natural History of the Senses by Diane Ackerman, How to Do Nothing by Jenny Odell, Tending the Wild by M Kat Anderson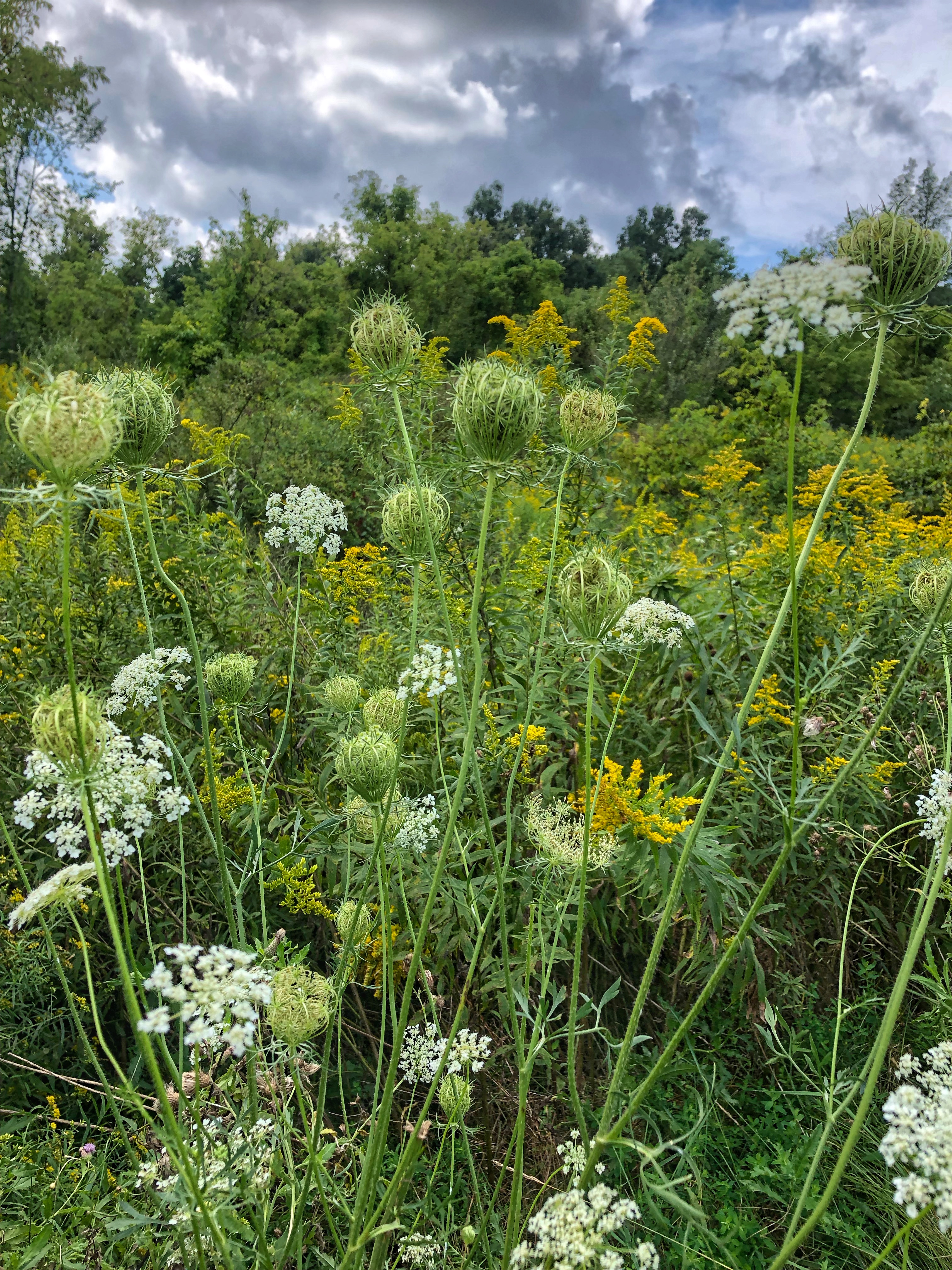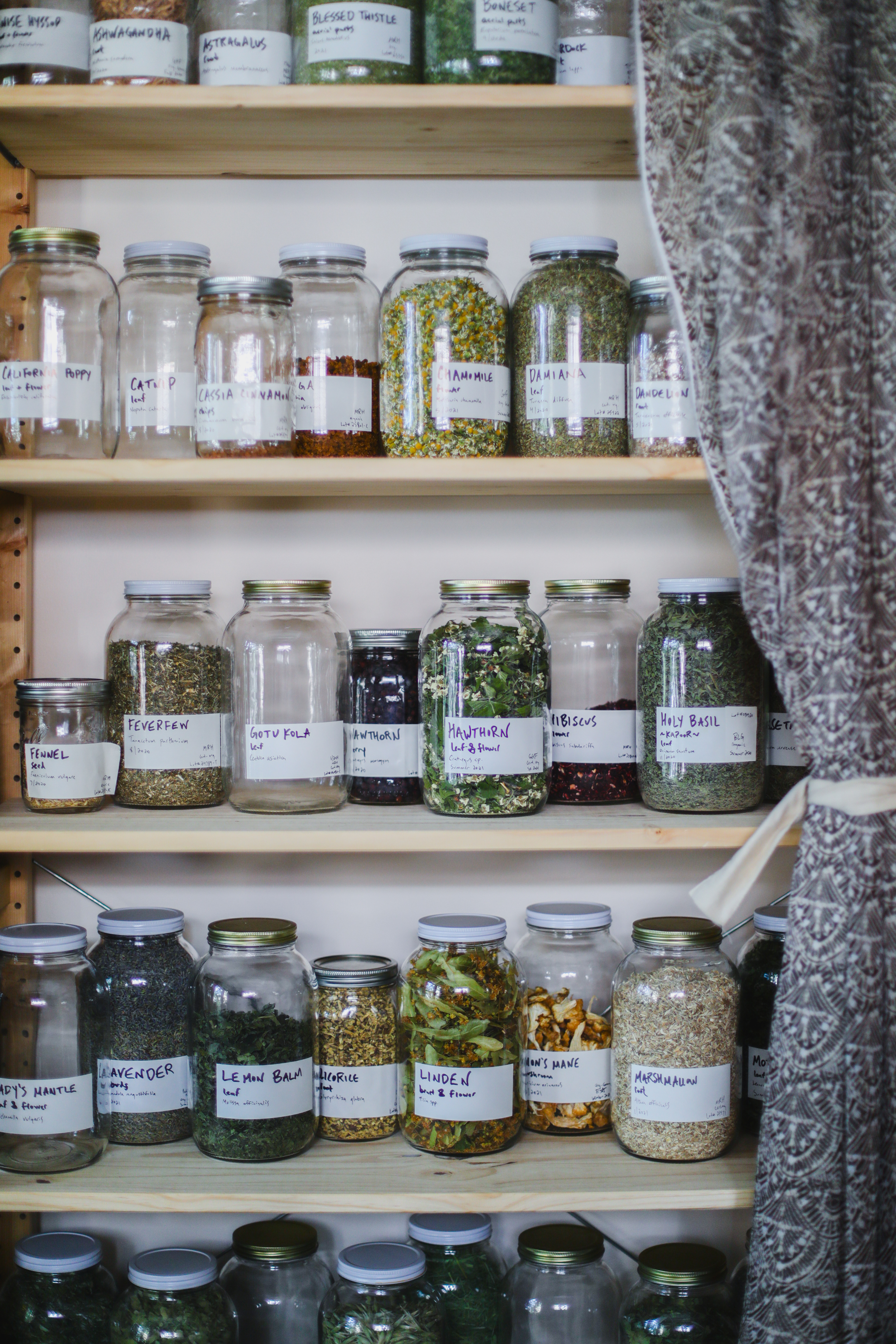 Actions & Energetics in Western Herbalism
Classes on Energetics are held on a monthly basis, where we deeply explore Western energetics as exemplified and refined by herbalists Matthew Wood and jim mcdonald. We explore the six tissue states and their energetic correspondences: Hot/Cold, Damp/Dry, Tense/Lax, including the nuances of application in herbal practice and their manifestations in the plants we work with. We also cover Foundational Actions in depth: Aromatics, Bitters, Astringents, Demulcents, Relaxants, Stimulants, & Tonics while relating these to the primary and secondary actions of herbs.
1-2 monthly in-person classes (3-4 hours each) on western energetics and the six tissue states as developed by the 19th century physiomedicalists and eclectic physicians and refined by Matthew Wood, jim mcdonald, and other contemporary herbalists.
1 Monthly Blind Tea Tasting (in-person) to feel into the energetics of particular herbs and develop our own perceptual awareness of herbal energetics
You will have the opportunity to work hands on with a variety of herbal medicine preparations, covering several forms of preparation and use: Herbs as-is, herbs & fire, herbs & water, herbs & vinegar/honey, herbs & alcohol, herbs & oil. By the end of this course you will be able to take your medicine making skills home and fill your kitchen/apothecary with jars of dried herbs, oxymels, shrubs, tinctures, salves, oils, and tea blends to the delight or puzzled looks of the ones you live with.
Monthly Herbal Medicine Making Demo with various plant-based preparations including infusions, syrups, steams, baths, oxymels, shrubs, smoke blends, tinctures, bitters, oils, salves, herbal cleaning solutions, etc. These demos are accompanied by over 100 pages of handouts detailing the medicine making process along with recipes.
(3) 6-hour apothecary shadowing sessions over the course the program. Here you will have the opportunity to work with me in the apothecary as I make preparations for clients, First Curve, and the community apothecary, assisting me in the process. You will get a taste for everyday work in the apothecary, and glean some of the methods I use in my practice for preparation, formulation, and the rationale behind my approach.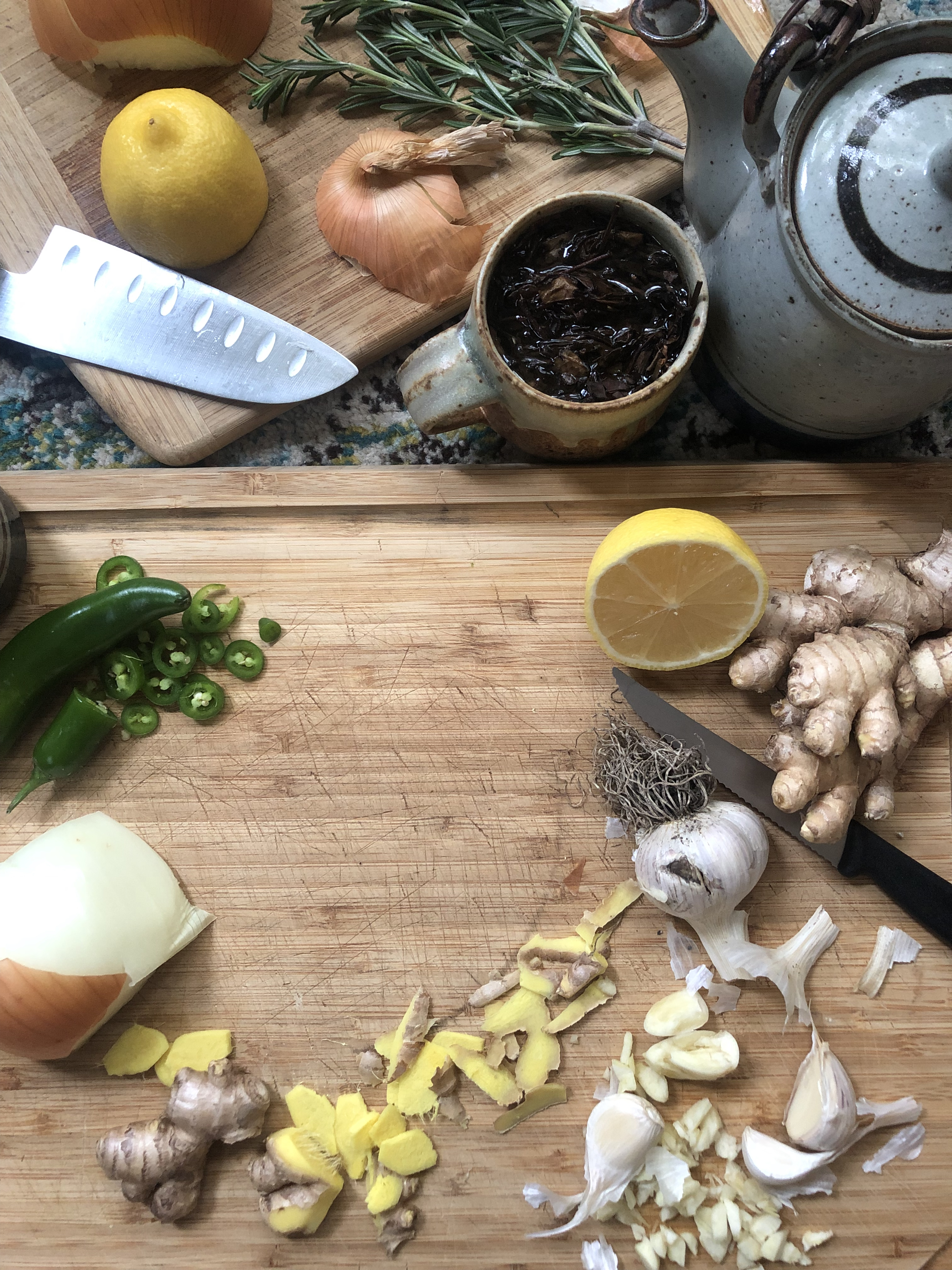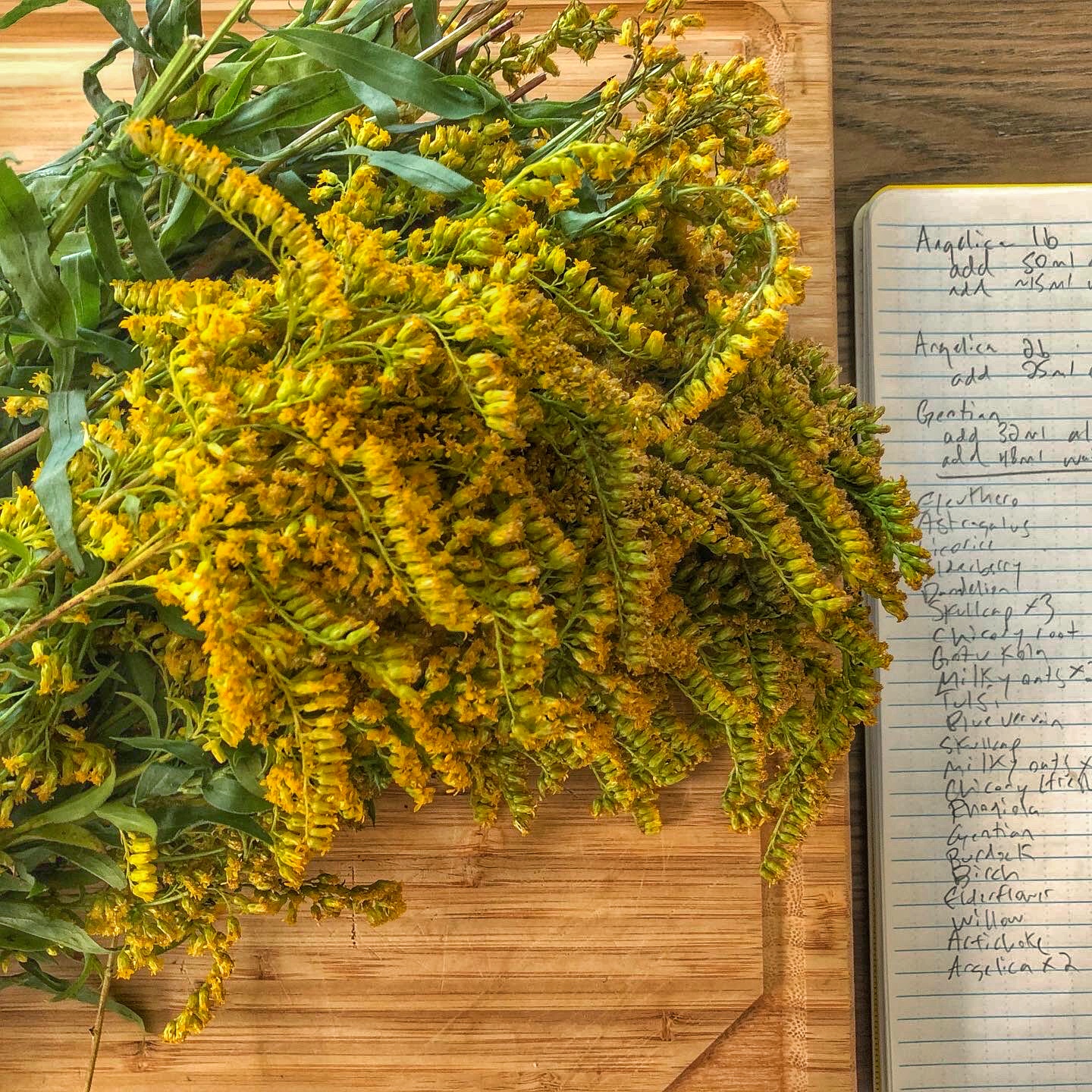 Through the ongoing creation of your materia medica, you will have the opportunity to connect with individual herbs through in-depth study and to organize the multitudinous insights, experiences, and epiphanies related to the herbs you encounter into written plant monographs that you may refer to over the course of your life and practice as an herbalist. You will receive accompanying handouts related to the building and development of a robust and personal materia medica that will grow with you. As a group, we share 6 plant monograph entries with each other (1 each month) to receive feedback, cross-pollinate different insights about the plants we are exploring, and inspire the creation of our own materia medica by seeing how our peers work on theirs.
Community Engagement & Collective Care
As a cohort we work together to plan and organize the Community Apothecary, which offers accessible, sliding-scale herbal preparations to local Chicago neighborhoods in collaboration with community gardens and urban farms that grow some of the herbs we use in our preparations. The Community Apothecary Pop-up held during the last month of the program acts as the culmination of our learning efforts throughout the duration of the course. Students work together to curate, formulate, and prepare a selection of herbal remedies intended to support our community through the transition into colder months.
Students also work together to create a biannual free 'zine' to accompany the herbal preparations we offer through the Community Apothecary. The zine may include recommendations on how to integrate herbs into your daily self-care regimen, recipes, practices, poems, pictures, and meditations to support community members in deepening their relationship to their body and supporting their health and well-being. The Community Apothecary Pop-up is also intended as a community gathering with workshops, movement, and sliding-scale herbal consultations.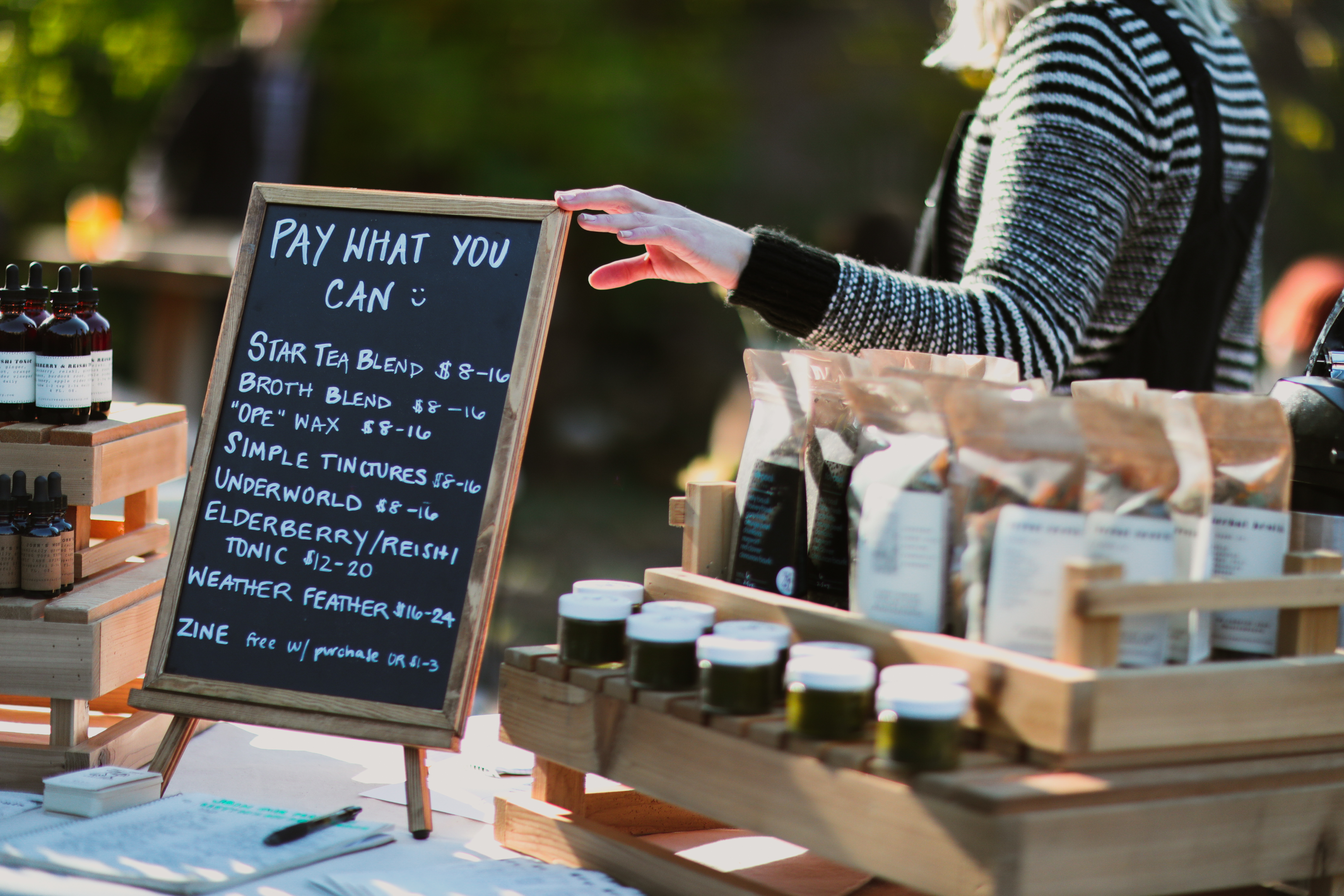 Shadowing Add-On Details
If you are interested in more hands-on work in the apothecary, developing a more individualized approach to working with herbs from the perspective of your own body, and want to learn more of the ins and outs of medicine making, maintaining and building your apothecary, and developing practices to deepen your intuition and sensory awareness in working with plants, the shadowing add-on might be for you.
Through this work, we will explore the ways that you experience your world, being in your body, and the interface between your body and your environment. We will also explore how your conception of health has changed over time, and how that conception informs your experience of the world. Following principles of depth ecology, ecopsychology, intuitive medicine, and heart perception, we will work together to cultivate practices that you may incorporate into your life to uproot our awareness from the limited ideological frameworks our western culture encourages, towards a more holistic and embodied perspective of self and earth. We may engage in breathwork, imagework, dreamwork, tarot, and other practices to support you in expanding your perceptual, sensory, and extrasensory awareness to encompass the subtle messages and cues that arise from your body and earth that guide you toward health and well-being.
Included in the Shadowing Add-on:
All aspects of the course as outlined above
Additional Shadowing Sessions: I welcome you to shadow in the apothecary once a month for a total of (6) 6-hour shadowing sessions throughout the course of the program.
In these sessions, you will have the opportunity to experience the way of work in the apothecary, gaining hours of hands-on experience in medicine making and formulation. You are also free to utilize my apothecary of over 100 plant extracts, dozens of dried herbs, preparations, solvents, and all tools and equipment to work on your own concoctions which will act as your primary contributions to the Community Apothecary. During our final months of shadowing, we will utilize this time to work on your own preparations and contributions to the community apothecary. You will contribute 2 herbal preparations to the Community Apothecary. I will guide you in the process of formulation, supporting you in thinking critically and holistically about the preparations you are working on.
We will also devote some time in these sessions to creating a self-care / embodied practice necessary for engaging with the nonhuman realm on a deeper level oriented around the goals above.
Herbal Consultation: This add-on also includes 1 full herbal consultation with 2 follow up appointments ($300 value) in order to give you a feel for working one-on-one in an herbal consultation setting. 
Regardless of whether one-on-one work is something you want to pursue, it gives us the opportunity to deepen our practice of herbalism oriented from the perspective of your own body and personal constitution.
Leadership Skills: Finally, the shadowing add-on invites all those who engage in this work to learn skills that will empower you to act as leaders within the space of this course, the Community Apothecary, and within your own community and work.
The price of this course is with shadowing add-on $1600 if paid in full by 4/1/2022.
Payment plans are also available with the shadowing add-on. Payment plans will be 6 payments of $225 beginning on April 1, 2022. The course is $1750 if paying through a payment plan.
Those who complete the course with the shadowing add-on are highly considered for future apprenticeship.
Other Course Offerings:
EXAMPLE